SSMSBoost add-in for SQL Server Management Studio
---
Features, added by SSMSBoost to SQL Server Management Studio
Preferred connections: "remember" favorite servers/databases
Quick Connection Switch
Quick Connection Switch
drop-down on the toolbar combines three useful features originally missing in SSMS: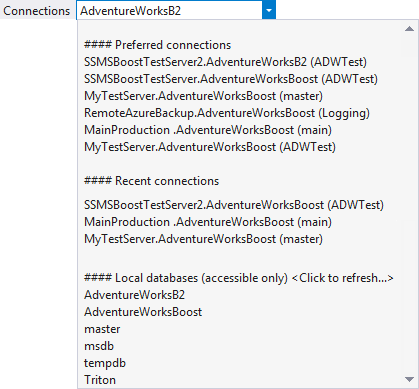 Allows switching between Preferred connections
Keeps track of Recent connections
Shows all or ACCESSIBLE-only local databases
If SSMS starts with an empty environment you can choose any connection from
Quick Connection Switch
drop-down to create an empty document with an appropriate connection.
To perform fine-tuning of
Quick Connection Switch
drop-down go to
SSMSBoost -> Settings-> Preferred Connections
Connection Coloring
Important Database alert
Auto-connect Object Explorer to databases at startup
Auto-open new query window(s) at startup
Set Connection from Object Explorer
Copy full object name from Object Explorer
Script Object from SQL Editor: "Go To Definition" for SQL Objects
Additional Scripting options for SQL objects scripting
Edit Top N Table Rows
Locate Object in Object Explorer focused in SQL Editor
Track current database
Autoreplacements
Custom SSMS window title (caption)
Advanced Objects Search
Search for Object by Token
Select Current Statement / Run current statement
Jump between matching BEGIN/END tokens
Jump between brackets ()
Jump between COLUMN/VALUE within INSERT statement
Comment/Uncomment selection
Regions in SQL Server Management Studio !
Format SQL Code
Results Grid Scripter (Flexible Template-based Scripting)
Copy Results Grid data to Excel (as xml Spreadsheet)
Find Data in Results Grid
Find column in Results Grid
Copy Results Grid Headers (Column Names)
Copy cell data from Results Grid 1:1 (preserving line breaks)
Copy as SQL values List
This feature can be useful when you have some dataset in
Results
grid and you need to add a filter based on IDs from several rows to your query. If you select and copy them using just regular SSMS functionality every value will appear in a new line, String and DateTime values will not be in a ready-to-use format.
SSMSBoost speeds up this process significantly: it adds
"Copy as SQL values List"
function to the context menu and you get a ready-to-use comma-separated native SQL values list which you can paste into "WHERE in ()" and other statements.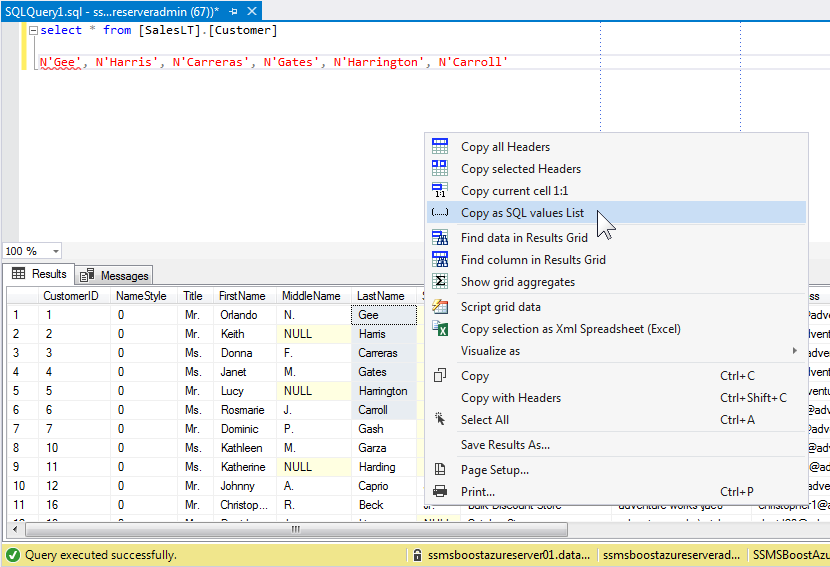 Holding down SHIFT or CTRL button you can change list separators: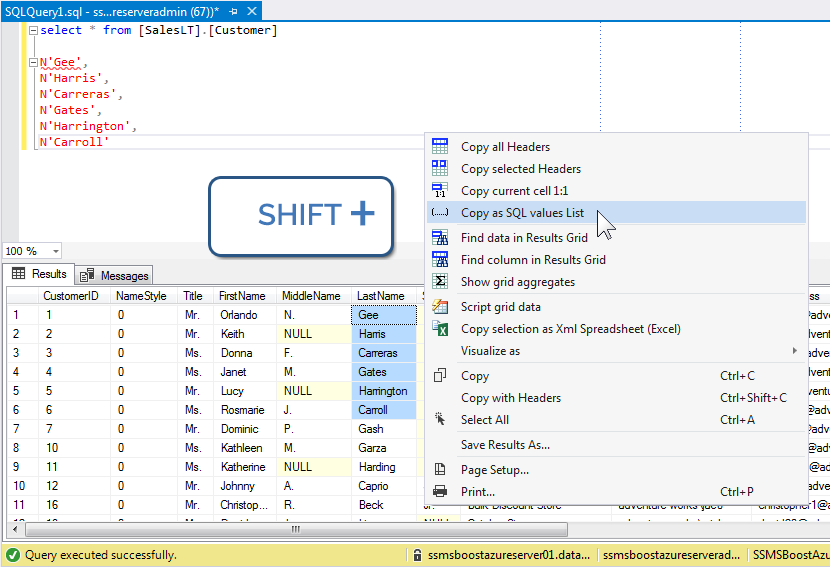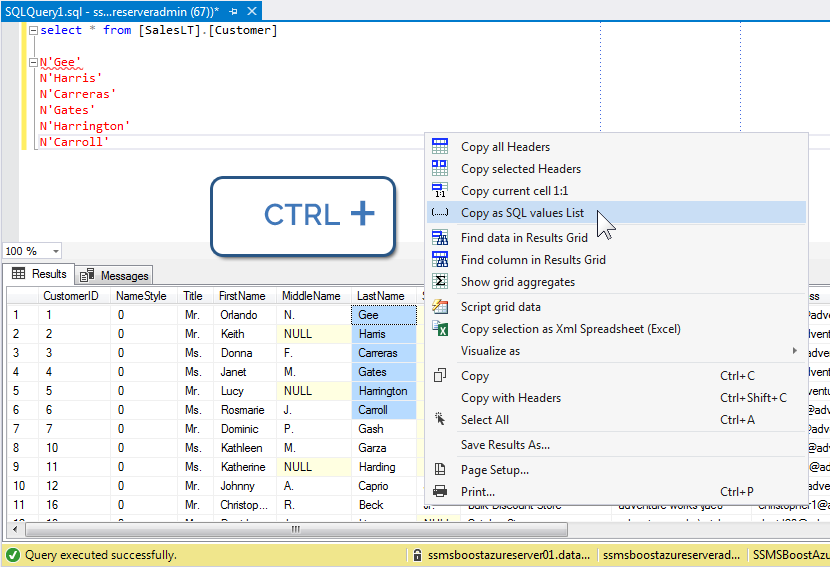 All separators can be customized under
SSMSBoost=>Settings=>Grid - data copy
SSMS Results Grid data Visualizers
Recent Connections - connections history in SSMS
Recent Tabs
Recent Sessions / Restore last session
SQL Editor contents history: Infinite UNDO possibility.
Executed SQL Statements History
Workspaces
Vertical Guidelines
Fatal Actions Guard
Run selected script as Database Query (.dqy) in Excel
Intellisense Completion Fix
Results Grid Aggregates
Query Post-Execution handlers
Possible use cases:
Configure automatic e-mail notifications via Outlook upon query execution completion. Start long-running database maintenance query and go home. Get the execution result by email when it is finished. For debugging or educational purposes: save long-running queries source text to some specific file location or database table for later analysis and improvement Pre-configure automatic steps for manual post-execution like: script ResultsGrid to File as Excel / Send it by e-mail as an attachment Send yourself a "Query execution complete" message using your favorite messaging system (provided it supports sending messages from command line)
Post-Execution handlers are a powerful tool that allows you to trigger different actions in SSMS after query execution is finished. SSMSBoost can be configured to execute command line (or PowerShell) script if query execution exceeds specific time-limit. Script can reference the executed query text, execution result and ResultsGrid data. Handlers
can be triggered manually in Post-Execution handlers selector window
that you invoke by clicking

button on the toolbar.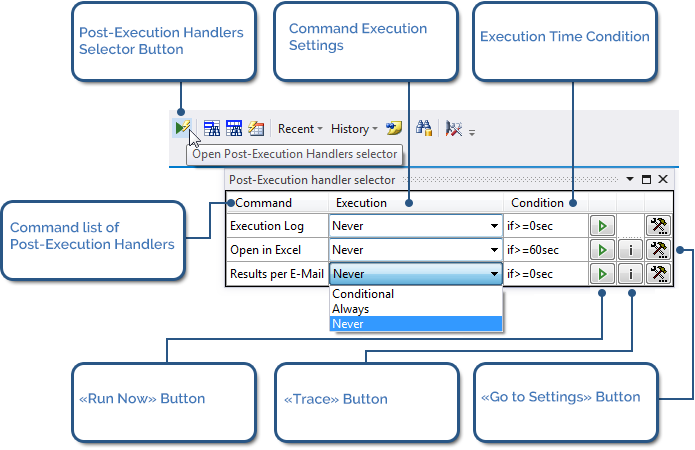 If you set info messages to be shown upon query execution completion a pop-up notification will appear in the top right corner of the screen:

If query execution finishes while you are working in another application a notification message in system tray is shown: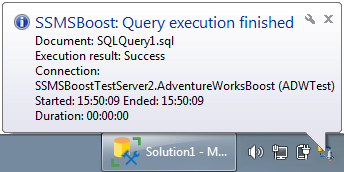 To configure pop-up message appearance and timings go to
SSMSBoost->Settings->Query Post-Execution handlers
: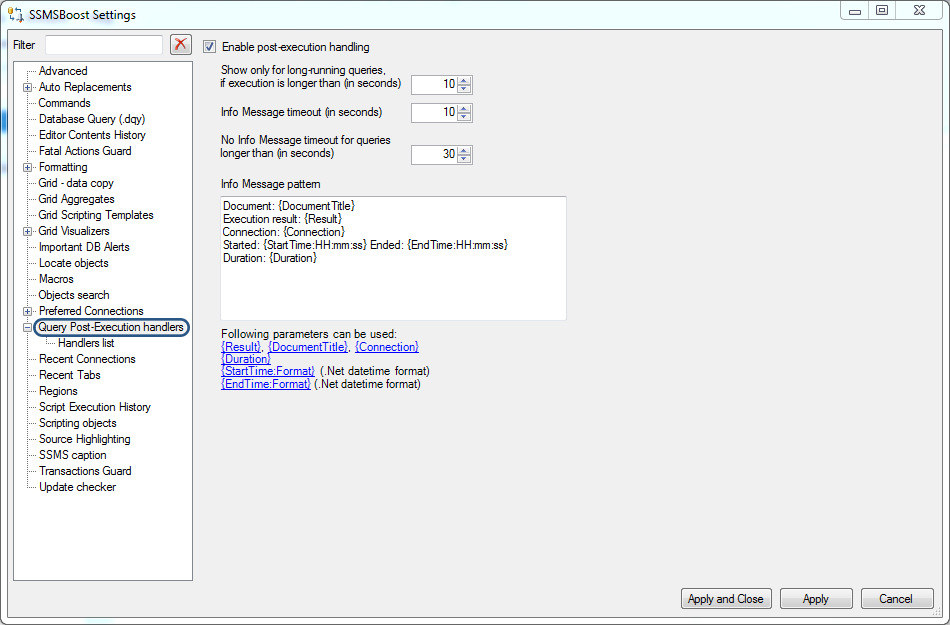 For more detailed settings enter
Handlers list
submenu:
Every handler consists of the following essential parts:
Command line/Program to execute (can be left empty) Command line arguments Files that can be generated based on Execution Status result, Execution Script, Execution Script Output or Data Grid. Depending on the situation you can decide which data you would like to save to a file (just to archive it) or reuse the generated file in command line.
You can create your own handlers by clicking

button. We ship several handler patterns out-of-the-box which you can use as an example for your experiments. If you accidentally deleted predefined patterns click
"Add Defaults"
to restore them.
Transactions Guard
Create simple macros in SSMS re-using existing commands
Manage keyboard shortcuts
SSMS Commands dump
Update Checker
Miss your favorite feature ?
If you would like to see your feature proposal implemented in our add-in, please do not hesitate
to contact us via e-mail:
(5)upp(0)rt(at)(5)(5)m(5)b(0)(0)st(dot)c(0)m
or using our
Forum
.
We are constantly improving our SSMS plug-in and a big part of the functionality is based on user proposals and feedback that we receive.
Sincerely yours,
SSMSBoost team.