Results Grid Scripter (Flexible Template-based Scripting)
Results Grid Scripter
allows to script data using flexible scripting templates to clipboard or to disk.
For example, to export & open contents of results grid in Excel you need a few clicks (also see picture below):
Right click results grid

Select "Script data as" command
Select "Excel (MS XML Spreadsheet)"
Choose between "All grids", "Current grid" or "Selection"
Choose "To Disk"
After scripting is done click displayed link to open created document in Excel (this step is not displayed on the picture)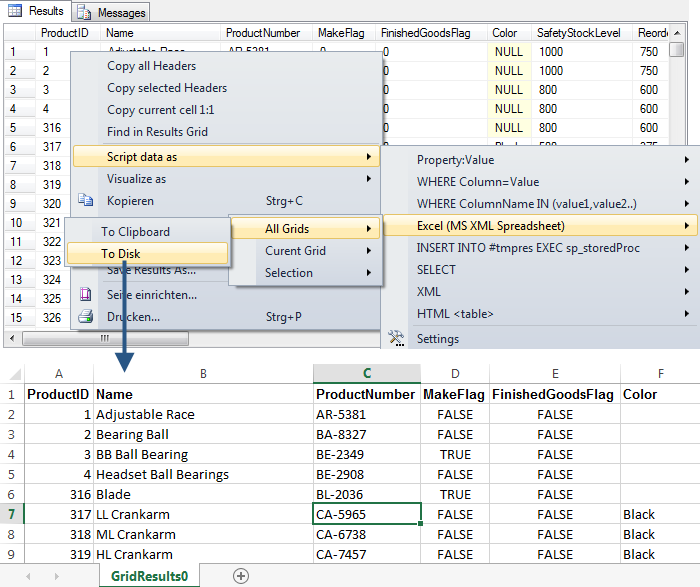 Existing templates can be fully customized and new templates can be added under:
Extras->Settings->"Results Grid:Scripter Templates".
Read template properties description in configuration dialog for more information about specific properties.
Use existing templates as samples to experiment and create your own templates.
Post your templates at
our forum
if you have created useful ones and want to share them with others.
Results grid scripter
feature is shipped with following predefined templates:
Property:Value - copies results as ColumnName:Value
WHERE Column=Value - selected values are copied as 'WHERE (ColumnName=Value) OR ...' allowing to generate WHERE filters quickly by selecting required column values
WHERE ColumnName IN (value1,value2..) - generates WHERE ColumnName in (Value1,..) filter based on selected values
Excel (MS XML Spreadsheet) - saves results in MS XML Spreadsheet format, that can be easily opened in MS Excel.
Values preserve their data types: If you export telephone numbers to Excel, they will not be treated as formulas anymore !
INSERT INTO #tmpres EXEC sp_storedProc - quickly generates temporary table declaration, that can be used to insert execution results of stored procedure.
SELECT - scripts results as SELECT VALUES statement. It is some kind of table data exported as script. Datatypes are preserved.
XML - results are saved as pure XML document
HTML table - results are saved as HTML Table
It is reasonable to try each provided template at least once to understand it's purpose better.