Find column in Results Grid
SSMSBoost allows you to search for columns in all currently displayed Results grids (result sets returned by a query can be multiple). To use this function press
CTRL+F
in SSMS Results grid and click
Go to "Find column"
button in the search dialog or choose "Find column in Results Grid" in context menu. Start typing the query in the search string and SSMSBoost will filter results in real time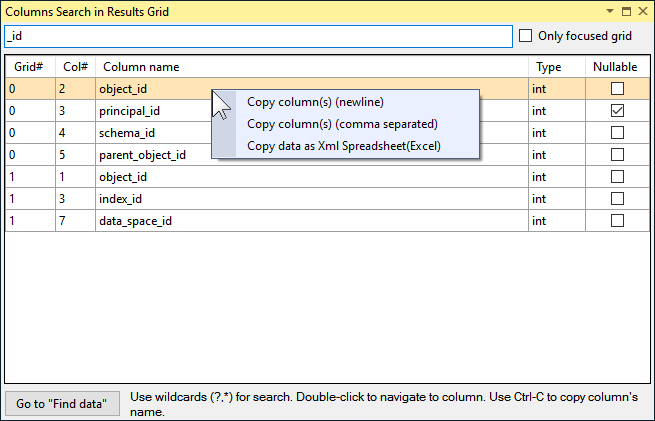 With this feature you can:
Search using wildcards
Double-click the column to focus it in the corresponding grid
Select a column name and press CTRL+C to copy it
See the column data type, precision and NULLability that are displayed in results set. Yes - now you know the exact data types of the result set.
Quickly switch to Find in Results Grid dialog using Go to "Find data" button at the bottom
The search dialog is dockable, you can dock it to any place within SSMS workspace and it will remember it's location. We recommend to dock it under Object Explorer.