Download latest release
SSMSBoost for SSMS 2008
Build date: 25 Dec 2014
v.2.15.5473.18024
Read changelog
SSMSBoost for SSMS 2012
Build date: 25 Dec 2014
v.2.15.5473.18051
Read changelog
SSMSBoost for SSMS 2014
Build date: 25 Dec 2014
v.2.15.5473.18077
Read changelog
Recommend, Follow, Like !

Latest News
December 30, 2014
SSMSBoost 2.15 released:
Highlights:
News archive
September 1, 2014
SSMSBoost 2.14 released:
Highlights:
July 24, 2014
SSMSBoost 2.13 released:
Highlights:
March 25, 2014
SSMSBoost 2.12 released:
Highlights:
November 27, 2013
SSMSBoost 2.11 released:
Highlights:
August 4, 2013
SSMSBoost 2.10 released:
Highlights:
April 15, 2013
SSMSBoost 2.9 released:
New features:
January 11, 2013
SSMSBoost 2.8 released:
Intermediate release with pluig-in improvements requested by users.
December 04, 2012
SSMSBoost 2.7 released:
December 01, 2012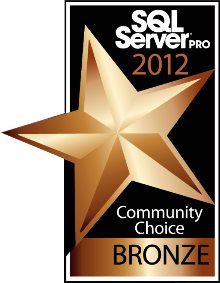 In yearly
SQL Server Pro voting
SSMSBoost
got
Bronze Community Choice Award
in
Best Database Development Product
category. We were also mentioned as "Other Hot Product" in "Best Free Tool", Community Choice.
We thank all users who voted for our product !
October 08, 2012
SSMSBoost 2.6 released:
August 22, 2012
SSMSBoost 2.5 released:
July 31, 2012
SSMSBoost 2.4 released:
June 18, 2012
SSMSBoost 2.3 released:
May 15, 2012
May 09, 2012
SSMSBoost 2.2 released:
April 23, 2012
SSMSBoost 2.1 released::
April 20, 2012
Please post your feedback at our recently created
Forum
Feature allows to export & view files or some big amounts of text or XML data from tables (like files from document storage of sharepoint services). Required data should be simply output to ResultsGrid. By right-clicking the cell with required value and selecting "Visualize As->.." you can tell to save data to file with predefined name and open it with custom or default application. No matter than SSMS truncates long data from VARBINARY/VARCHAR fields when outputing them to ResultsGrid: SSMSBoost works with internal storage of SSMS and extracts complete cell value. Below you can see how a picture from [LargePhoto] field of [Production].[ProductPhoto] table from [AdventureWorks] database is being visualized: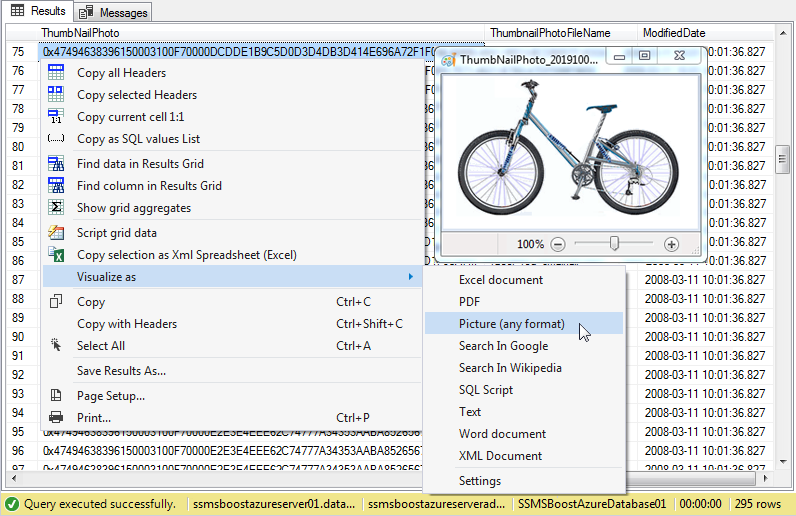 There is actually no magic: in Settings dialog you can configure list of Visualisers. You define Visualizer name, file extension for saving data and also an application, used to open saved files. If you leave Application path empty SSMSBoost will perform "Shell.Open" - forcing windows to open file using associated application.
There is a trick for using this feature: if your field keeps images of different types like .bmp, .png, .jpg, etc., then you do not have to define own visualiser per type. Just define visualizer "Picture" and extension to save ".pic". Then associate in Windows .pic with windows picture viewer. Picture viewer will analyse contents of .pic and display image correctly, no matter if it is .jpg or .bmp. This trick might also work with other picture viewers or other programs.